An Impact Investing Infographic
Collaborative Fund was founded a decade ago with the mission to support and invest in the shared future.
Since then, the conversation around impact investing has only grown. We couldn't be more excited.
Impact investing has evolved to mean different things to different people.
In our eyes, any entity – non-profit, for-profit, individual, or government organization – that invests time, money, or resources to push the world forward can be classified as an impact investor.
To show how far the world has come, we created an incomplete timeline of some of what we find to be the most interesting milestones in this landscape. You can check it out here, or click the image below.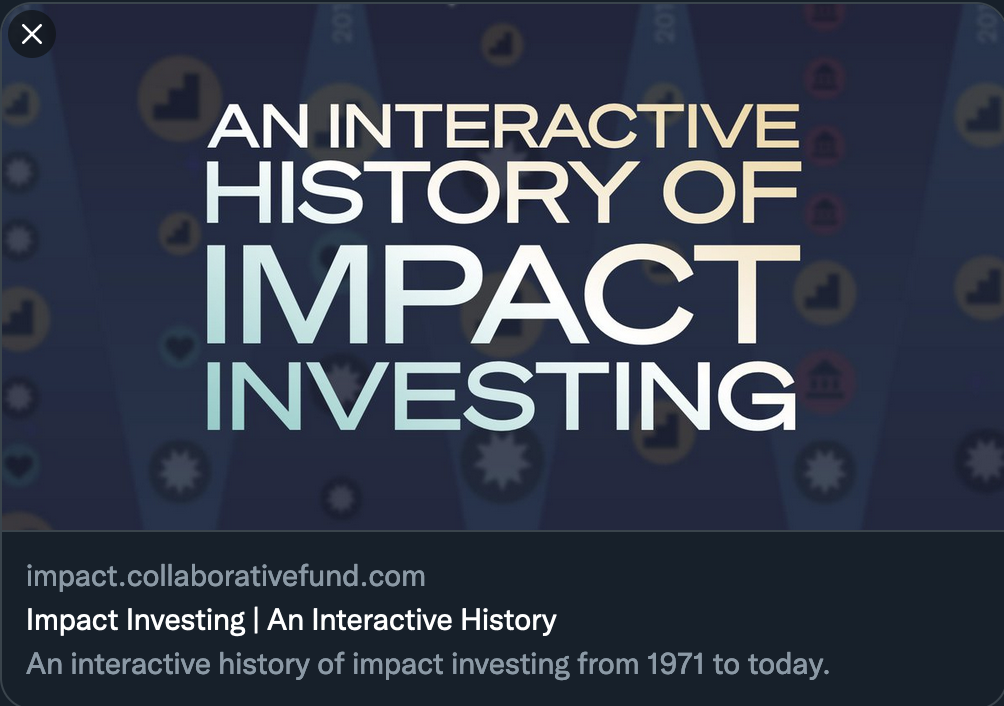 We've followed the common thread that ties the signing of the Kyoto Protocol in 1997, in which 84 countries committed to reducing greenhouse gas emissions, to the 2006 release of An Inconvenient Truth in Theaters, which opened eyes to global warming worldwide, to more recent, large-scale ESG strides in the corporate world, like:
The Ford Foundation committing (the largest commitment of this kind made by a private foundation) $1 Billion to mission-related investments in 2017

Business Roundtable redefining the purpose of a corporation to benefit all stakeholders, not just shareholders, in 2019

Harvard finally announcing their divestment from fossil fuels (after years of outside pressure) earlier this year
The events we've included in this interactive history stand out as significant moments in this global movement. But this is nowhere near a comprehensive collection.
This is more than an outline. It's a call to action.
We want this to be a living, breathing thing that we can add to, and we want your help.
If there are any significant events or ideas that deserve to be included, please email us at research@collabfund.com.