Technology enables the most talented individuals to be able to scale and distribute their gifts to the millions who want them. Spotify for musicians, Etsy for artisans, Gumroad for creators, Outschool for teachers, and so forth. The world is better thanks to the ability of these marketplaces and tools to promote a more free market – one in which the best of the best are discovered and directly rewarded by millions of supporters for their one-of-a-kind gifts.
According to recent research, fewer Americans than ever enjoy cooking. As a result, and in an effort to meet exploding demand, restaurants have been shifting to becoming delivery-mostly or delivery-only.
Though the conventional restaurant experience has taken a backseat to food delivery, the available options to eaters have remained relatively unchanged. Distribution has changed, but supply remains the same – the same restaurant brands, large and small, moved online and onto aggregator apps. The creators – the hard-working artists who make the meals we crave – have remained shrouded behind the brands of virtual restaurants.
At the end of 2018, we had the good fortune of meeting Mateo Marietti, and leading the pre-seed round into his company CookUnity.
His vision for a world in which everyone could discover and order meals directly from chefs inspired us. Thanks to the modular commoditization of ghost kitchens, cooking infrastructure had become readily available. So much so that CookUnity could aggregate the shared back office, infrastructure needs, and distribution necessary to make food delivery accessible to individual creators. By doing so, CookUnity enables consumers to discover and order meals directly from all the world's best culinary creators. No restaurants, no brands, just the humans behind the food.
Today, we're thrilled to announce CookUnity's $15M Series A led by Fuel Venture Capital alongside continued support from existing investors.
Over the last year, CookUnity grew its subscriber base over 500%, its chef base over 200%, and grew the number of unique meals available every single week from 100 to 300. The business will sell nearly 200,000 meals this month alone.
Aspiring chefs and culinary artists spend a lifetime honing their craft. Historically though, a chef's only path for monetizing his or her lifelong passion has been to eventually own and operate a restaurant. Take an example chef who spent years rising through culinary school, laboring as a sous-chef, and now finally feels ready to share her gift for making amazing Indonesian food.
To bring her signature dishes to market, up until recently, her only option was to open a restaurant. She would need to sign a lease, buy equipment, hire a designer, pay for furniture and decor, hire a team of sous-chefs and hospitality staff, pay for a branding and marketing team, and so much more. Before serving even her first dish, she will incur ~$500k of upfront costs or more – especially in New York City. Today, her restaurant can only serve ~3k diners a month, must charge ~$70 per head, and may only produce $10-20,000 of monthly profit, at best.
Not as glamorous as having a Michelin-Star restaurant would seem.
But now, with CookUnity, chefs have another option. Another path. The very best independent chefs are increasingly choosing to work for themselves.
CookUnity provides them with turn-key online presence, infrastructure, and distribution needed to market and sell their creations to eaters across the country - all with $0 of upfront costs.
From Jean Georges Vongerichten's Rigatoni with Meatballs to Esther Choi's Bulgogi Ramen, consumers can discover, order from, and write reviews on an ever-growing roster of the world's best chefs and their 300+ signature weekly dish options.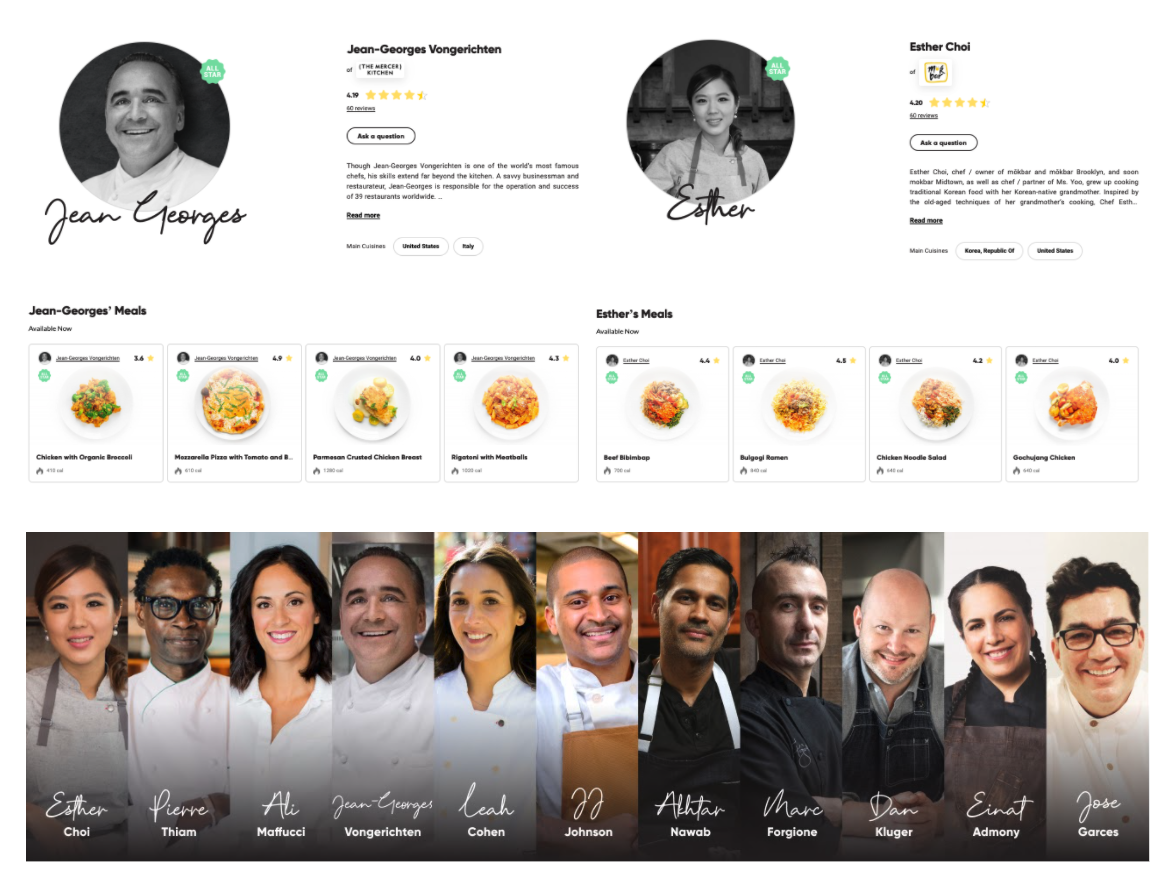 We believe the most talented musicians deserve the most listeners, the most talented teachers the most students, and the most talented writers the most readers. Similarly, we believe the most talented chefs should be accessible to everyone.
CookUnity will soon be available nationwide with a roster of 150-200 of the greatest chefs selling 1000+ unique meals each week. I couldn't be more excited to share Collaborative's investment in CookUnity, and am excited to continue to support Mateo and the team in this journey!