Investing in the next generation
Investments in child development are creating tremendous opportunities to build massively successful businesses and have a positive social impact. Lego is a favorite example.
These types of businesses appeal more to parents and educators, whose purchasing power can make all the difference in these companies' long term success. We have a growing number of portfolio companies, such as: Hopscotch, Neverware, Revolution Foods, DIY, and AltSchool that support this thesis.
We use a broad lens when evaluating these opportunities. While education is a critical part of child development, it is only one piece of the puzzle. Kids also need proper nutrition, healthcare, social and moral development, and a nurturing family. We're excited to focus on what we consider whole child development, because we think we'll create the greatest impact by considering all aspects of what it takes to help kids.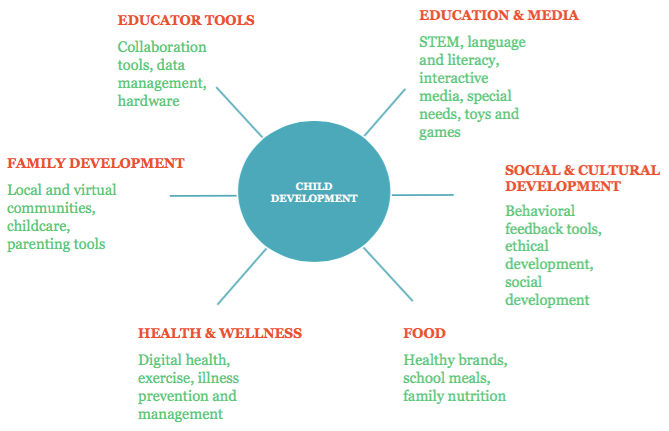 The graphic above shows some of the areas that we're excited about. A few of the problems we're especially focused on right now include:
Working families: dual-earner families now outnumber single-earner families three-to-one, but infrastructure, workplaces, and schedules haven't evolved in tandem. We look for companies that help parents care for their kids without making the professional sacrifices that seem unavoidable today. Examples include: CareLuLu and NatureBox.
Skills beyond the classroom: previous generations had shop and home economics classes to teach them important practical skills, but there is no universal modern equivalent for teaching kids how to save and balance a checkbook. This has a huge impact on outcomes, particularly in financial education: studies suggest that children with a savings account in their name are six times more likely to attend college than those with no account. A company like Osper is having meaningful impact in this area and there will be more.
Health and nutrition: the CDC reports that over one-third of children and adolescents in the US are overweight or obese, and childhood obesity has more than doubled in the past 30 years. Parents and schools want to choose healthier meals and snacks for their children - and we think there is a huge opportunity to build a trusted brand that offers tasty, balanced food at an affordable price point. Happy Baby and Plum Organics have paved the way, and we think there will be great companies that follow.
If you are similarly excited about these problems and/or are building a business to solve them, reach out! I'd love to chat. (lauren@collabfund.com)