In a global climate crisis, country borders mean little.
In our pursuit of companies pushing the world forward, we recently wrote about our interest in the Latin American ecosystem – Early Stage Empresas.
Latin America and the Caribbean is one of the most urbanized regions in the world, with 83% of the population living in cities. The region is also known for its young, large, and growing population as well as its high levels of inequality. Balancing climate and development goals has never been more important.
According to the IMF Regional Economic Outlook, LatAm accounts for <10% of global Greenhouse Gas (GHG) emissions, with per capita net GHG emissions of 6.4 metric tons CO2-eq3. 45% of emissions come from agriculture, forestry, and change in land use, compared to the world average of 14% for the sector. On the other hand, energy only represents 43% of total GHG emissions, compared to the 74% world average.
Even though the region accounts for GHG emissions proportional to its population and GDP, it bears some of the highest costs associated with climate change. The effects of climate change vary widely across LatAm, with a few examples listed below:
Glaciers in the tropical Andes have lost 30% of their area since the 1980s, while some glaciers in Peru have lost more than 50% of their area, increasing the risk of water scarcity in these regions.

Sea levels continued to rise at a faster rate than globally, threatening a large percentage of the population that is concentrated in coastal areas

Record-breaking droughts are becoming more common, including the Central Chile Mega Drought and the Parana-La Plata drought, affecting food and water security, rural livelihoods, and biodiversity

Extreme rainfalls leading to floods and mudslides continue to affect many countries in the region, resulting in an increasing number of fatalities and displaced communities
It's clear that action is needed in the region.
We believe that mitigation and adaptation efforts as well as a collaborative ecosystem approach could support the region's transition towards sustainable growth.
The urgency of the climate crisis combined with the talent and funding momentum in Latin America, make us increasingly excited about the opportunity for the region to become a hub for sustainability and climate companies.
A few areas we are particularly interested in are highlighted below:
The rise of the sustainable consumer: In 2019, 85% of Latin American consumers said they would change their consumption habits to reduce their impact on the environment. As we've seen in the U.S. with brands like Allbirds and Sweetgreen, LatAm consumers are looking for a sustainability-first approach, without a sacrifice on price or quality. The consumer pressure extends beyond sourcing and manufacturing to looking for real commitments that companies are doing everything they can to minimize their carbon footprint.
Companies are adapting. Mercado Libre, the largest ecommerce ecosystem in the region, published its annual report on sustainable consumption which highlights a 30% increase in buyers of sustainable products, and a 40% increase in brands selling sustainable products. While Natura, the beauty and cosmetics conglomerate based in Brazil, has made a compelling pledge to reach carbon neutral by 2030.
We are also seeing a new wave of companies emerge that are building for these consumers.Our existing portfolio company Diferente, offers organic "ugly produce" at competitive prices in Brazil. It offers a convenient, affordable, and quality service while helping reduce the 40 tons of food wasted every day in Brazil.

Pictured above: Diferente's electric TukTuks in downtown Sao Paulo
Growth in renewable energy: About 25% of energy in the region comes from renewable sources today, with targets of reaching 70% in the next decade. In addition to expanding the proportion of clean energy production, Latam countries are also working on diversifying from hydropower - currently 80% of renewable supply - into more reliable and cost-effective alternatives such as solar, wind, and geothermal energy. This political and economic agenda has been met with an acceleration of capital flowing into the region. According to LAVCA, investment in renewable energy reached $1.3bn in the first half of 2022, up from $616m in the full-year 2021.
Although we are encouraged by some major public and private sector partnerships in the region, we are excited about companies helping accelerate the transition to renewables. For example, Ruuf is one of our existing portfolio companies working on empowering residential owners to transition to solar energy by making it a seamless, accessible, and reliable process. On their platform, users are able to get quotes, design, finance, and project management support for their residential solar projects.

Pictured above: Ruuf's online platform for residential solar.
Reforesting the region: Latin America lost an average of 2.6m hectares of forest per year over the last decade. The Amazon – the world's largest rainforest – has lost almost 20% of its forest cover due to deforestation of the land for farming and mining during this period. If this trend continues, the rainforest could eventually become a savannah which would have global implications in accelerating climate change.
Approximately 35% of GHG mitigation worldwide is expected to come from nature-based solutions. Organizations such as plant-for-the-planet, Re.Green, and Mombak are leading the charge in protecting and reforesting the biggest area for trees globally.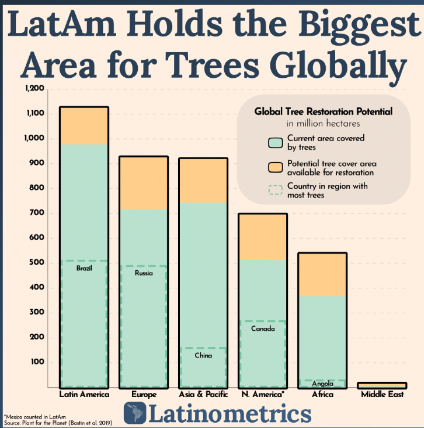 Source: Latinometrics
Sustainable agriculture: Agriculture continues to play a big role in Latin American economies and their sustainability constraints. The sector, which employs 14% of workers in the region, is a significant producer of the world's food supply. Latin America produces 53% of the world's soybeans, 48% of the world's sugarcane, and 22% of the world's meat. That being said, agriculture, forestry, and land use account for the majority of the GHG emissions. According to the World Bank, "agriculture uses over one-third of the region's land area, consumes nearly three-quarters of the region's freshwater resources, and generates almost one-half of the region's greenhouse gas emissions."
Technology companies have the potential to improve productivity and sustainability across the agriculture value chain in LatAm. The number of agtech startups in the region has grown 226% from 2010, reaching 457 companies in 2019. Companies such as Terra Magna are unlocking capital for farmers using alternative data underwriting models while others such as Kilimo, are offering smart irrigation systems to farmers to reduce water waste and create the first water offset market.
Although we are optimistic about Latam's potential to become a hub for climate change, we don't want to oversimplify the local challenges and the sociopolitical nuances of the region. Fostering a thriving climate and sustainability ecosystem is a collective effort. Founders, investors, policymakers, and local agencies are coming together to change the status quo.
**We are encouraged by the progress and the people actively contributing to the region's ecosystem. If you are working on climate, sustainability, or food & agtech in LatAm, please reach out, we want to meet you! **Collaborative invests in founders pushing the world forward from the earliest stages of a company's formation.
Sources and additional reading:
State of the Climate in Latin America and the Caribbean
Tracking Latin America's Progress on Climate Action
The New Green Consumer: How Emerging Trends Are Shaping Sustainability Initiatives
Renewable Energy Market Analysis
Growing Our Way To a Healthier Climate
Dalus Capital - Latam Climate Wiki