Cereal is a thing. It is a big thing. It is something we all have a relationship with. Lots of people eat it everyday. Some eat it multiple times of day.
I have a love-hate relationship with cereal. It was my favorite food as a kid. On family vacations I would load up on Cap'n Crunch, Golden Grahams, Frosted Flakes, and Fruit Loops.
But for the last several years, I have significantly cut my cereal consumption due to a desire to limit my carb intake 🙈. And when I've indulged, it has mostly been limited to Kashi, which unfortunately doesn't pack the same punch.
So when founders Gabi Lewis and Greg Sewitz first talked about creating a new cereal, I jumped.
Their idea: A low-carb option – without much sugar – that tastes great. They'd keep it healthy without sacrificing taste by using a natural ingredient called allulose that tastes and feels like sugar with 1/10th the calories.
I wanted to try it right away. And after doing so, I was convinced they were onto something.
In a roundabout way, it reminded me of Outdoor Voices' seed round. On the surface, investing in another "athleisure wear" business didn't make sense. It was a crowded space, owned by Lululemon, Nike, and Under Armour. But for us, Outdoor Voices wasn't another "athleisure wear" business; in fact it wasn't even an apparel business. It was a community. A brand that spoke to a new consumer whose lifestyle was unmet by any of the existing options. It stood for something beyond the technical apparel.
Magic Spoon is following the same path – a community of people who are more aware of what they are putting in their body and how it impacts their health, energy, and happiness. They want healthy food, but also food that tastes great. No sacrifices! They currently walk down the cereal aisle and feel nostalgic about sugar cereals, but they keep walking for dietary reasons. This desire was best illustrated shortly after Magic Spoon's launch when Questlove posted on instagram: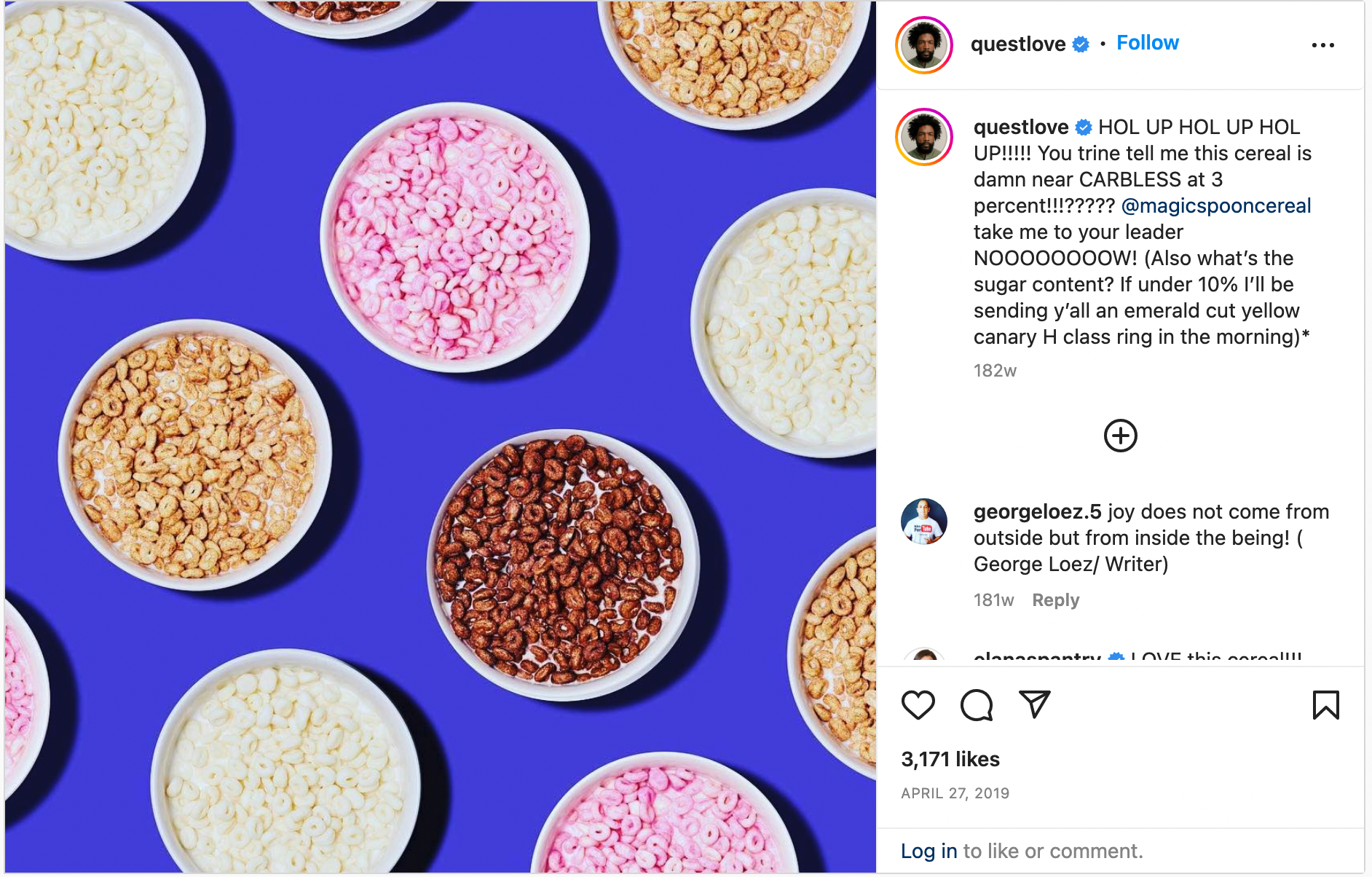 "Take me to your leader"! 🙃
Which brings me to Magic Spoon's leaders.
I've had the benefit of working with Gabi and Greg previously, and could not be more excited to support them on this journey. They are both smart, pragmatic, earnest, and most importantly very good at making cereal. They have created an option that is better for you nutritionally while not sacrificing taste.
If you have not already done so, give Magic Spoon a try. They have a 100% happiness guarantee! And so far, so good.
---
Postscript: fun cereal facts: