A Livestream Future or a Livestream Moment
In the weeks since Covid struck, there has been an eruption of livestream startups sprouting up for seemingly every use case imaginable. It's incredible to see how quickly entrepreneurs and builders are able to react to a shift in the market. It's similarly incredible to witness how quickly many VCs have already market mapped these budding startups (thank you to all of you).
I've met with several teams who have recently quit their jobs at high-flying tech companies to start live streaming companies – and most already have customers! What a tangible testament to both 1) the low costs of building a business today, and 2) the speed of going to market enabled by modularized infrastructure (Zoom APIs, AWS, Stripe, etc.). More on this observation another day… for now, back to live streaming as a product.
There's live streaming for fitness, for classes, for dating, for musicians, and so much more. If you can imagine it, there's likely a budding live stream company for it.
Given the surge in "live stream solutions in search of a problem" it feels like live stream has re-entered the technological hype cycle and currently sits somewhere around the "Peak of Inflated Expectations."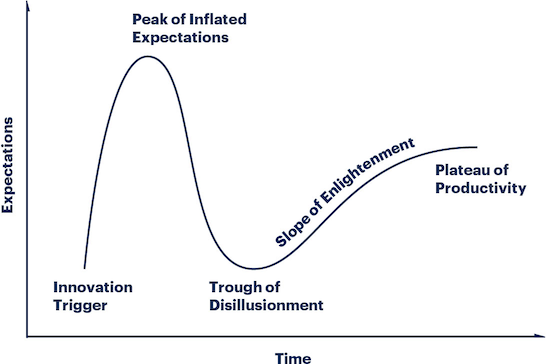 Live stream interest is not exclusively driven by Covid. Platforms like Instagram Live, Youtube Live, Twitch, etc. have all validated that consumers do value live content en masse.
But there's an important distinction between live stream incumbents and the startups I've seen over the past few weeks.
The former are free. Instagram Live, Youtube Live, Twitch, etc. are all free for consumers, and rely on an advertising-based revenue model.
The new crop of livestream startups are asking for consumers to pay directly. Historically, consumers have shown a mass-market willingness to spend on pre-recorded content platforms. But the same has not been observed for live streaming platforms.
History also shows that pre-recorded content platforms make for a much more scalable business model. Pre-recorded content is typically the same cost to produce as live content, but can be played over and over (near infinite LTV with near zero marginal cost). So not only is each piece of content more profitable, but the size of a pre-recorded content library can scale much more quickly than a live content library.
These benefits of pre-recorded are what have catapulted the likes of Udemy, Peloton, and Pluralsight to dominate their respective categories. Pre-recorded enables much faster content variety, and long-tail inventory accumulation, and thus much more defensible businesses.
It's only the notion of asking a consumer to pay for a live stream that's new. To try to approximate whether a paid live-stream solution is truly what consumers will want in a post-Covid world, I've found it helpful to ask the following question:
What does the consumer really want: convenience or real-time engagement?
Pre-recorded content delivers a level of convenience that live streams will never be able to match. Since Udemy courses and Peloton classes are pre-recorded, they can be watched whenever is most convenient. Live solutions, on the other hand, require consumers to plan ahead and commit to a time. Live solutions sacrifice convenience. As a result, what these new startups offer in return must be significant enough to the end user that they would be willing to sacrifice convenience.
What live platforms typically offer in return for that tradeoff is real-time engagement. The ability to interact with the content creator in real-time, get feedback, or be held accountable for the desired purpose of the livestream.
In fitness, we know that consumers generally value convenience over real-time engagement. In fact, so much so that many fitness businesses that focused on live have had a difficult time scaling. Zumba, Gixo, and more have all experienced this pain. Exercise is a chore for most people, and having to do it on someone else's schedule makes it harder.
But in tutoring, we have seen consumers value real-time engagement more than convenience. Given the value of personalization and accountability in learning, this makes sense. Companies like Wyzant, Varsity Tutors, Outschool and more have shown that real-time engagement from a teacher is so valuable that students and parents are willing to schedule in advance and commit to a time.
More broadly in education, we also see success for pre-recorded content platforms like Udemy and Pluralsight. As a result, the answer to this question is usually not binary, and so it's valuable to dig in on the specific end customer's preferences for their specific use case.
One vein of live streaming companies that has caught my eye are those focused on enabling celebrity content creators to host live, private shows. Whether musicians, comedians, or athletes, they bring to the table not only the value of real-time engagement, but they also unlock distribution by leveraging their social media followings for acquisition.
I'm curious to see how many of the paid live stream startups being founded today will still resonate with consumers a year from now, and believe the above question and examples will help shed some light on the answer.