We are excited to share that we recently invested in a women's health startup based in Mexico called Plenna.
Women's health is a space Collab has invested in previously — including companies such as Oula Health and Natalist. The combination of a great team + large, growing, and underserved market + improving people's lives = good investment.
You can read their recent announcement here. We asked the founders (Giovanna and Lorena) some questions:
---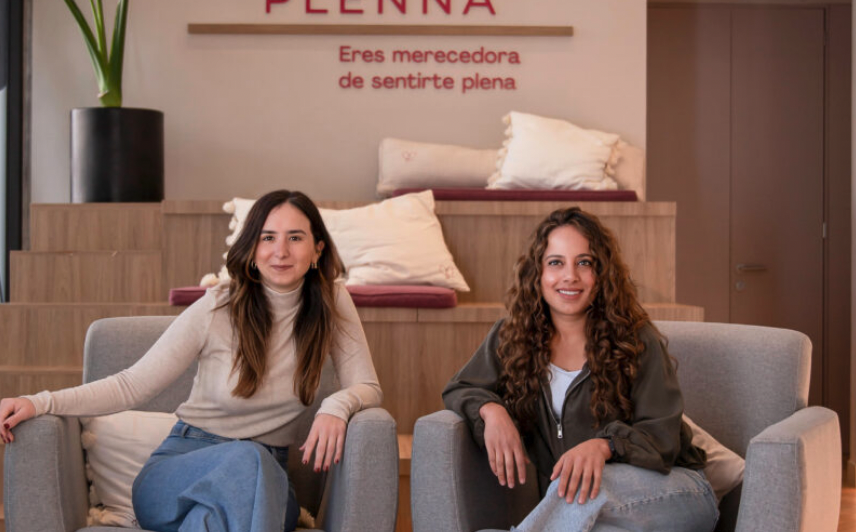 How did you two meet?
Giovanna:
I met my co-founder Lorena Ostos, at Bain Mexico working in management consulting.
Previously, I founded a Medical Tourism startup and worked with medical devices as a biomedical engineer in private hospitals in Mexico. Lorena came from a family of doctors and spent a year and a half as a paramedic understanding the limitations of the public sector healthcare system in Mexico.
We left Bain to pursue our MBAs at Harvard and Stanford and spend time exploring the healthcare industry. I worked at Moons, opening the Colombian market, while Lorena worked as a Product Manager at salauno, developing and implementing a digital-first patient referral platform.
After the internships, we knew we wanted to start our own venture. We formalized our partnership in the Fall of 2020 and launched Plenna by the Summer of 2021.
What inspired you to start Plenna?
Lorena:
Plenna means "fulfilled (fem.)" in Spanish, because we believe that by providing better access to healthcare services, women will be able to live healthier and more fulfilling lives.
We both grew up in conservative cities in Mexico, where speaking about sex and reproductive health was taboo. Several of our high school classmates got pregnant at a very young age and there was misinformation about other topics like contraceptives, STIs, and breastfeeding.
The past few years have been positive for Mexico regarding gender equality driven by the wave of women's rights campaigns sweeping the nation. We believe we can rethink care delivery for the new generation of women who are expecting more from the system. We initially advertised Plenna as "not your mom's gynecologist" and had a very positive reaction from the market.
Could you describe Plenna's mission statement?
Giovanna:
Plenna seeks to empower Mexican women to live healthy and fulfilling lives. Our vision is to become the largest women's health provider in LATAM by 2025.
What should everyone know about women's healthcare in Mexico?
Giovanna:
In Mexico, 50% of healthcare spend is out of pocket since the public system is underfunded and at overcapacity. Only 8% of the population can afford private insurance. Private healthcare is unstandardized and its high costs keep a large segment of the population from receiving quality care.
There are multiple tech-enabled startups disrupting the market, but women's health is not yet addressed at scale. Mexico is still a very conservative society, and talking about sexual health is still a taboo. This leads to three out of five women having unplanned pregnancies in Mexico, 30% of the population having STIs, and Mexico being the second country with the highest rates of underage pregnancies.
How is Plenna changing the status quo?
Lorena:
Plenna is addressing accessibility, quality, and availability of care. We connect every dot in a woman's health journey by empowering our healthcare professionals with technology.
With a 21% referral rate, and an NPS of 96%, we believe that our patient-centered experience is what makes us unique. We make our patients feel heard and at ease in their in-person visits, and provide convenient and reliable support with our digital experience. We are the only hybrid player that owns a patient's medical record holistically and is able to treat comprehensive diagnostics (PCOS, Maternity, etc).
We opened Casa Plenna, our first in-person location, in April of this year and will continue to expand into 2023. With Casa Plenna, we have booked more than 6,000 appointments and treated more than 4,000 patients.
2022 was a big year for Plenna - launching the first clinic, hiring the core team, and closing your Seed round. Could you tell us what you're looking forward to the most in 2023?
Lorena:
We have three ambitious goals for next year. The first, is to launch our subscription model, an innovative way of offering our patients the flexibility and affordability of getting treated in a comprehensive manner. Our subscription model will include unlimited access to a primary care physician, daily personalized recommendations and tailored content. Second, we are building our native app and adding more features to our portal, such as a period tracker and other health metrics to leverage our patients data and create a better and smarter diagnosis. Lastly, we will expand our in-person coverage to other areas of Mexico to continue growing our hybrid model.
Join our journey and follow us on: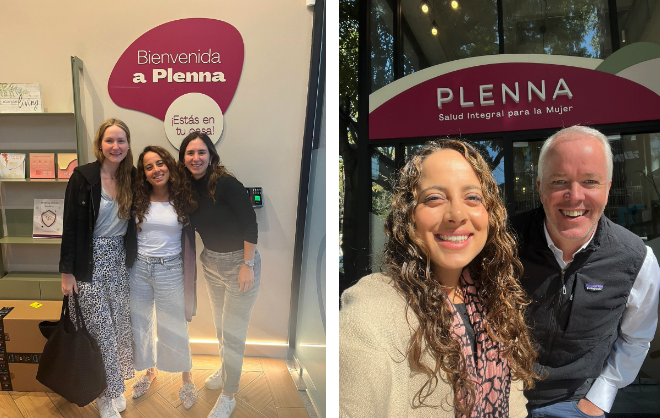 Pictured above part of the Collab team with Gio and Lore at Casa Plenna, in CDMX.