How do we find and connect with people with whom we share common values?
Religion used to serve as the dominant communal force, but in a more secular and fragmented world, how else do we build community?
One interesting answer is our profile pictures – our avatars. Facebook recently announced a new feature allowing users to rep a cause with their profile pic. We saw this in June when 26 million Facebook users changed their profile picture in support of legalizing gay marriage.
Tumblr had a similar initiative whereby if you supported Haiti, they would add a ribbon to your avatar.
This trend is not new in the offline world. Whether it is wearing a Bern Baby Bern t-shirt or having an Ironman tattoo; the things on you act as a physical statement, identifying what you stand for and care about. People (especially young people) are using these 'beacons' as a means to connect with others, make friends, date, and even get jobs.
Sending these signals is important.
That's why I am excited about B Corps. Much like the profile pic, the B Corp logo sends a powerful signal to the world. A signal about what type of business they are building, what they value, what they aspire to, and the importance of having social impact as a pillar of that vision.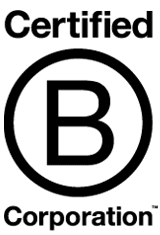 Within Collaborative Fund's portfolio, we have a number of B Corps: Kickstarter, AltSchool, Good Eggs, Etsy, Simply Gum, Soma Water, and InVenture.
We are seeing common threads emerge among this cohort: an ease in hiring best-in-class talent, lower employee churn, and greater customer loyalty. All key ingredients in a successful business.
Communicating your values to the world in a quick and efficient manner creates an advantage. And we're thrilled to see this manifest within some of our favorite businesses.