The Generation that Tech Forgot
There's a group of people who comprise a third of the US population, account for half of consumer spending, and have more discretionary spending than any other category. Yet, with a few exceptions, they have gone virtually ignored by Silicon Valley and they report that marketers don't understand or pay attention to them.
Let that sink in a minute.
People over the age of 52 – baby boomers and their parents – are the most active and valuable consumer group, by far. But in our experience, most tech companies and investors haven't even considered how to reach them.
Enamored of millennials, and often run and/or staffed by millennials, tech firms and marketers tend to tailor their products and messages to younger generations. There are plenty of reasons for this. Millennials seek new brands that feel authentic and aligned with their values, and that creates a massive opportunity for innovation. They spread new products via word of mouth, making customer acquisition much simpler and cheaper. They're engaged on social media and frequently buy online.
But being so myopic seems crazy when you look at the numbers. Spending by older adults mirrors that by those 25-54. Among baby boomers, 51% spend 15 hours per week online (compared to 41% of millennials) and 70% of them report using Amazon at least once per month according to Synchrony Financial. In fact, Amazon is their favorite brand. Sixty percent of them owned a smartphone in 2016, a number which is growing rapidly.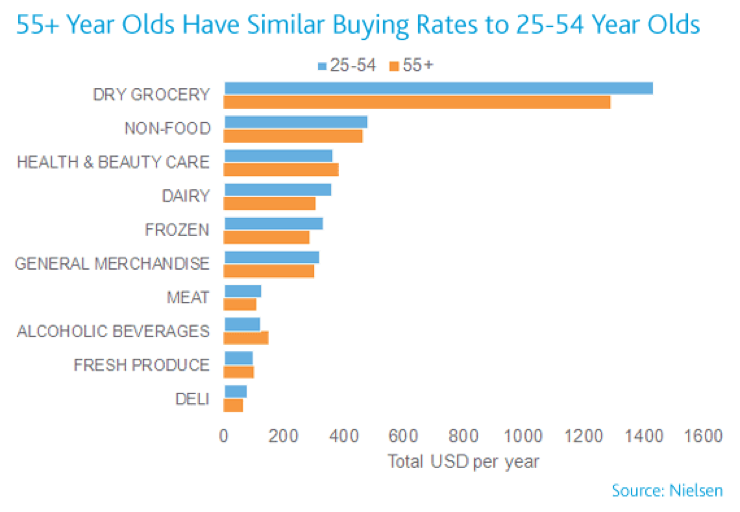 There are challenges too. According to Mintel, only 19% of boomers buy food online – though two thirds of them make online apparel purchases, and more than half manage their finances online. These numbers are obviously much smaller than those of their millennial counterparts. But is this because boomers aren't a fit for direct to consumer brands, or because no one has figured out how to reach them effectively?
Our belief is that the latter plays a large role.
One exciting trend we've seen are the companies that are innovating around specific challenges of older generations. They're helping older adults get care, order rides, and manage chronic conditions. But the need is vast – and we think it is significantly underserved right now, particularly as older adults are increasingly likely to live alone and thus to need additional support. And while care is important, much of baby boomer spend is in fun categories like travel and entertainment – which has gone pretty overlooked.
We're actively investing around this thesis, so if you are a founder or a great marketer with an interest in reaching older adults, we'd love to chat!