When it comes to electrifying transportation, the future has arrived ahead of schedule. And we believe we've found a winner in WeaveGrid, which we recently invested in.
Auto manufacturers long derided electric vehicles as impractical – today, they are investing billions to catch up with the inexorable.
The rate at which consumers are buying EVs has consistently beat projections. Electrification is spreading across all categories of vehicles: two-wheelers in Israel, three-wheelers in India, passenger cars in Europe, and even airport buses in the US.
Electrifying millions of vehicles is one of the most exciting opportunities in climate tech. But this mobility revolution is also an enormous challenge: how do we charge millions of EVs without compromising the electrical grid?
Because as EV adoption accelerates, so too will the demand for electrons to charge them.
There are already ~2.5 million EVs on the road; by 2030, ~44 million will be sold each year. Charging a single EV from home increases a house's energy consumption by 2-3x. So when thousands of vehicles charge at the same time, they can push the grid to its limit. And we've seen how when the grid is already at capacity, as was the case in California this summer, grid operators struggle to get EV owners to delay charging.
In short, our 'dumb' grid wasn't designed to transport so many electrons.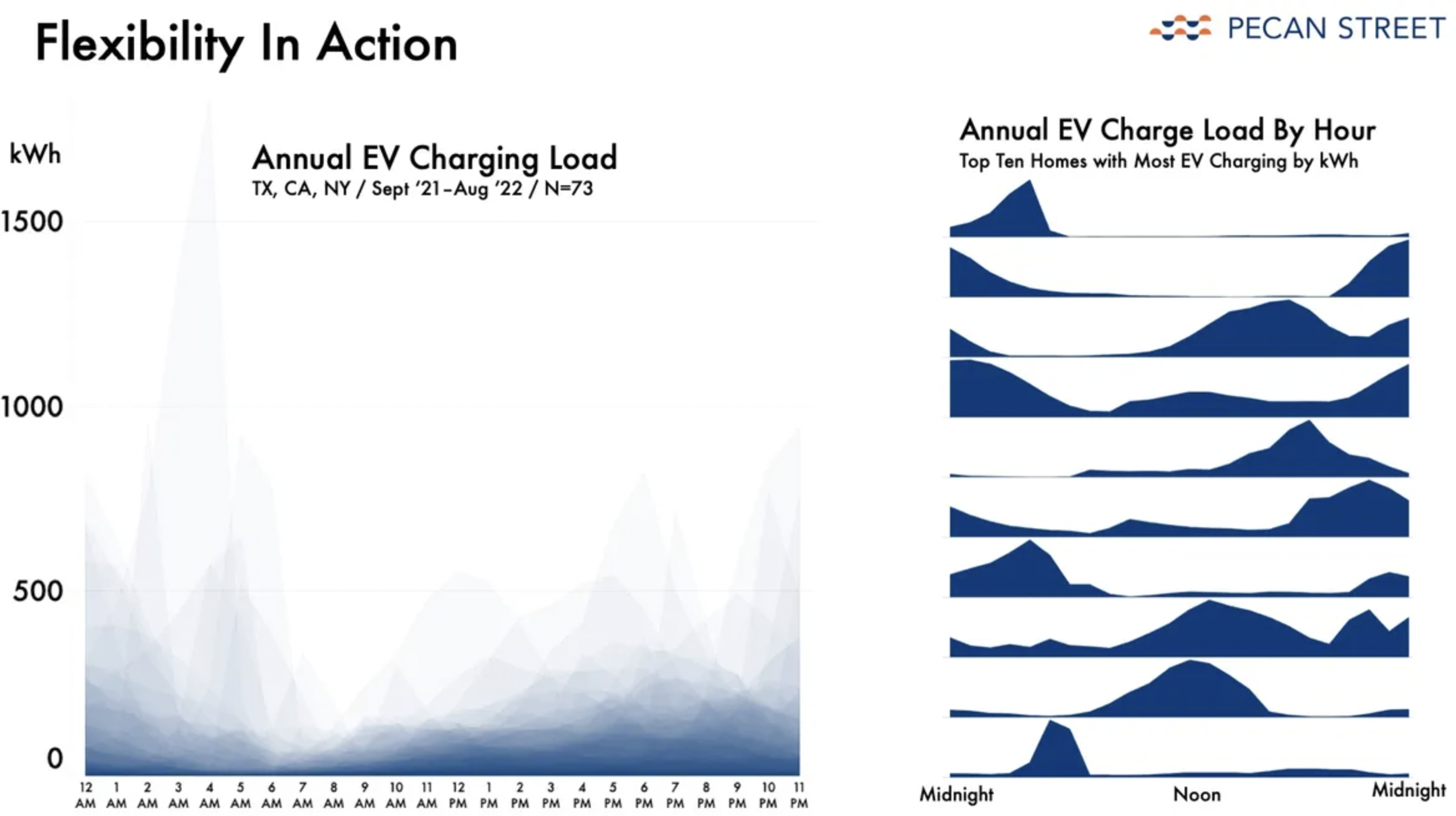 Source: Pecan Street via Canary Media
Today, utilities' only solution is to spend money on costly infrastructure upgrades. BCG estimates that they will need to allocate "$1,700 and $5,800 to accommodate each new EV through 2030." The cost of upgrading transmission and distribution lines – one piece in a much larger puzzle – may reach $15-25 billion. To fund these upgrades, utilities would likely have to increase rates for consumers.
At Collab, we believe a software solution can create a win-win-win for consumers, auto manufacturers, and utilities by better distributing how and when vehicles charge.
Consumers care about having a vehicle that is ready to use when they need it, and are also incentivized to charge when it is cheapest. Utilities need to distribute the grid's load while balancing costs and emissions. Finally, auto OEMs want to provide their drivers with a fantastic charging experience without having to integrate with hundreds of utilities across the country.
We found that win-win-win trifecta in WeaveGrid, the leader in building software that enables the transportation electrification ecosystem.
Via world-class software, machine learning, and data technology, WeaveGrid is creating a layer of digital infrastructure that enables vehicles to communicate with utilities and OEMs. Today, we're excited to announce our investment in WeaveGrid's Series B alongside Salesforce Ventures, Breakthrough Energy Ventures, Grok Ventures, Emerson Collective, MCJ, and others. We are confident that WeaveGrid will play a critical role in making the experience of charging our cars seamless and sustainable.