A few good pieces the Collab team came across this week …
Connected
Over all, Microsoft concluded that 162.8 million people do not use the internet at broadband speeds, while the F.C.C. says broadband is not available to 24.7 million Americans. The discrepancy is particularly stark in rural areas. In Ferry County, for example, Microsoft estimates that only 2 percent of people use broadband service, versus the 100 percent the federal government says have access to the service.
Clean slate
Here's this longhaired art student in the mid-'60s, getting asked to design something he knew nothing about. Then he's told to set up a company, which he knew nothing about. That's what I do today with my people. I try to recruit everybody as a graduate, because they have no baggage, they have enthusiasm and curiosity. I think experience can be fine in certain situations and with certain companies. But when you're doing something very different, it's often best done by people who have done nothing before.
Platform
I think a good analogy is that Facebook is the Federal Reserve of web publishing. It can turn its dial and blast millions of visitors to numerous publishers, allowing everyone to have more eyeballs to sell to and more rising traffic numbers with which to attract investment. Facebook turning on the traffic fire hose is like loose monetary policy that stimulates the economy for everyone.

Of course, Facebook could tighten policy, pulling traffic (liquidity) and leaving weaker players parched. When the Fed tightens policy, shaky borrowers who depend on ample lending are hit hardest. When Facebook tightens policy, second-tier publishers that totally rely on Facebook are hit hardest.
Celebrity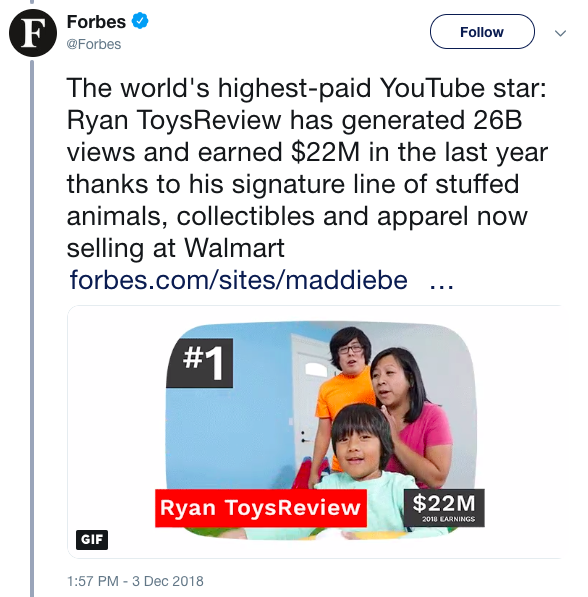 Decline
Whoa:
The German study found that, measured simply by weight, the overall abundance of flying insects in German nature reserves had decreased by 75 percent over just 27 years. If you looked at midsummer population peaks, the drop was 82 percent.

In the United States, scientists recently found the population of monarch butterflies fell by 90 percent in the last 20 years, a loss of 900 million individuals; the rusty-patched bumblebee, which once lived in 28 states, dropped by 87 percent over the same period. With other, less-studied insect species, one butterfly researcher told me, "all we can do is wave our arms and say, 'It's not here anymore!'
Enough
Any regrets?

No regrets. I'm not a "trillionaire" like Abby Johnson [Fidelity chairwoman], who is supposed to be worth [$15.4 billion]. I wouldn't even know what to do with a number like that. We have a nice, small house. We have shelter when it rains, snows or is windy. The kids and grandkids are well. I have the Armstrong Foundation, which has now reached a decent size — and I feel like it could do some good for others.
Have a good weekend.