Ruuf – the first residential solar marketplace in Latin America – is here.
Based in Santiago, Chile, and built by Domingo, Tomas, and Pedro, the company launched in August '22 and completed its first end-to-end installation in October '22.
Next week, Ruuf will be one of very few Latin American startups joining Y Combinator W23.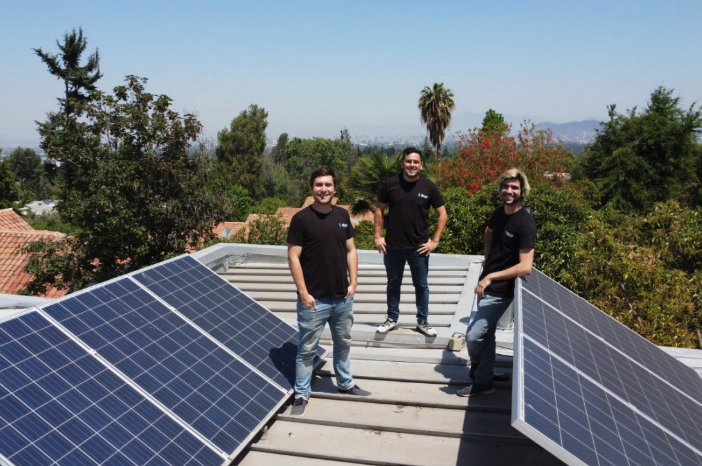 Collab originally invested in Ruuf's preseed in July, 2022. We were inspired by the team, the market tailwinds, and their vision for the business.
Since our initial investment, we have been lucky to witness the team go from idea, to MVP, to a working product with happy customers. Ruuf closed 2022 with ~$500K in booked solar systems.
Domingo and Tomas both come from a civil engineering background and have experience in Chilean energy companies including AES Corporation and Tesla. They also each founded a company prior to Ruuf, one of which was a solar panel installation company called Helios.
After getting their MBAs at Harvard and Berkeley, respectively, they founded Ruuf with the mission of making solar energy accessible to every homeowner in Latin America. Pedro joined Ruuf in Fall '22 as a co-founder and CTO; he was the first employee at the Chile-based 'soonicorn' Fintual, and had previously spent 2 years at Google.
In a prior Collab blog post, Latam x Sustainability, we wrote about the favorable tailwinds behind renewable energy for the region and how our investment in Ruuf fit within that thesis. Latin America is home to some of the countries with the highest solar radiation in the world, making it an ideal place for solar energy development. As countries move away from hydropower to more reliable and cost-effective solutions, solar energy is an attractive option.
The question is – what will drive adoption?
In the case of homeowners, the motivation must be financial. It must pass the villain test.
Developing countries are synonymous with growth and opportunity, but they are also places where many people live day by day and are very cost sensitive. Not to say that people do not care about fighting climate change, but – in general – that is not a sufficient reason to change behavior.
Chile – Ruuf's initial target market – has been at the forefront of using regulation to advance solar energy adoption.
Chile's new energy policy aims to have 80% of the energy consumption coming from renewables by 2030. With the implementation of the Net Billing Law in 2014 and the Distributed Energy Law 21.118 in 2018, clear financial incentives were created for those who invest in residential solar. Homeowners are allowed to inject energy back to the grid, get paid a fair price, and use the surplus to net their bill (more here).
With an attractive value proposition for residential solar in Chile, key stakeholders including installers, lenders, and homeowners need to collaborate to make the transition a reality.
That's where Ruuf comes in – a platform that makes it easy to go from end to end.
Homeowners can go online, get a quote, add a financing plan, and get support through the installation and beyond. The online process takes 3 minutes and requires 2 inputs: the address and electricity use. With this Ruuf eliminates most of the friction that homeowners have to experience to go solar.
We could not be more excited about working with the Ruuf team and supporting their vision to connect the key ecosystem stakeholders to accelerate the transition to solar. Their journey is just getting started!
We are also fans of companies building to support this transition in the region such as Bright, SolFacil, Bia, Lemon Energia, Rocasol, among others.
If you would like to chat about Ruuf or are building something that will support the transition to renewable energy in the region, please reach out! We'd love to chat.